Hundreds of honest swinger personals… Every ad photo in blazing color!!1 16 pages of pictorials and vintage amateur 1980's swingers. Wet ladies, stiff studs in explicit action.
Black & Oriental Couple – Amateur Swingers
M black/oriental couple. She's 5'2″, 120, 35-24-37 nasty in bed. He's 6'2. 191, 8″+ thick. Interested in all who want to fuck. We enjoy anal, deep fucking, pussy smelling, photo exchange, panties. Will answer all letters with nasty letters. all photos with photos. We are unshockable. Age, looks, race unimportant. Please reply with nasty letters. She can use her ass better than her pussy. BI females okay.
Hot Sexy Couple
Hot sexy couple in mid 30's would like to meet other hot couples for fucking and sucking hot times. Would love to trade hot photos and videotapes with others from coast to coast. We prefer sincere people who like garter belts, stockings, g-strings.
Amateur Swinger Couple Seeks Erotic Sexual Encounters
Attractive white couple seeks uninhibited couples and Bi females for erotic sexual encounters. Select, straight, mature, hung males with 8″ or exceptionally thick shaft with full length photo. Proof and SASE considered. He's 30, 5'10. 165, straight and hung. She's 28, 5'7″ 130, voluptuously statuesque. Aggressively Bi, multi-orgasmic and submissive. Enjoy sexy lingerie, home video, french to completion, cum baths, greek and toys. She enjoys threesomes and sopping wet gang bangs with heavy hung studs who use, verbally abuse and humiliate her as the sexy, wanton slut she is while hubby watches, videos and joins in. She loves to taste and swallow thick hot loads of cum from freshly fucked pussies and assholes. Any masters or mistress invited to further the training of his jaded sex slave. Live for the right female. All with descriptive letter, revealing full front photos, phone and SASE answered.
Nationwide Sex
Nationwide video exchange. Horny, hot couple would like to exchange hot videos with other attractive couples and singles. Love gangbangs, french and greek. We have many homemade videos to exchange with others, who are sincere, discreet and honest. No money involved.
Imagine yourself in living color on these pages!
Encouragement Wanted
Slut wife wants encouragement from horny guys. Bi girls, couples. Will send spread shot to anyone sending obscenely descriptive letter about her pictures, your uses for her. SASE a must. Erotic letter, photo exchange possible with similar couples. Send what you want to receive.
Southwest Virginia Amateur Swinger
Young couple, he's straight, she's curious, is looking for a mature, cool, classy lady for good conversation, photography, body massage and friendship. Age, race, looks no barrier. She also enjoys exchanging photos with well endowed males.
Gangbangs
Female seeks men. Enjoys several clean, health conscious, thin, and well hung men under 35 at once. Blacks welcome. Suck to completion my favorite. No drugs, no anal, no gays, no Bi's. No kidding. Love being videotaped. Has a small library of herself being gang banged by various groups. Only mature, clean and health conscious men need apply. Ladies wishing to be gangbanged by a clean and sensually sensitive group of nice men should write and send photo. Couples into this scene absolutely welcome. Very discreet when calling. Married men welcome. Saturday night parties only. Bring your thin body and hard dick to me for servicing.
California Swingers
Sexy couple would love to correspond and trade photos with other couples. We love to be nude and we really enjoy being photograped. Tell us about yourselves and we'll do the same.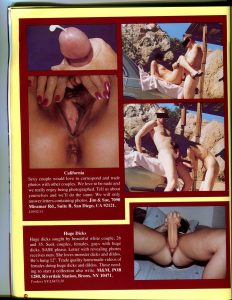 The rest of the amateur swingers…!
We hope you enjoyed this Vintage 1980's Amateur Swingers series on vintagesex.site!